-----------------------
DOHA -- When Qatar was awarded the World Cup for 2022 it was
viewed
derisively in many Western capitals. Who was this small nation? Where was this country? Why Qatar? Even US President Barack Obama
claimed
afterwards, "The wrong decision was made." This country of 1.6 million residents and less than a quarter-million citizens had burst onto the world stage in the most spectacular of ways. Its victory, however, was not just its own, as Sheikha Mozah Bint Nasser Al Missned, the Amir of Qatar's wife and an influential leader in her own right,
explained
to me this week, in an exclusive interview:
We saw [the excitement] immediately on the faces of millions and millions of Arabs and not just in the Emirates or the Gulf or our direct neighbors, but also in Egypt, Algeria, and Syria, everywhere -- Lebanon... what happened in Zurich, is the success of a hard-working group of young people that represents all the Middle Eastern youth.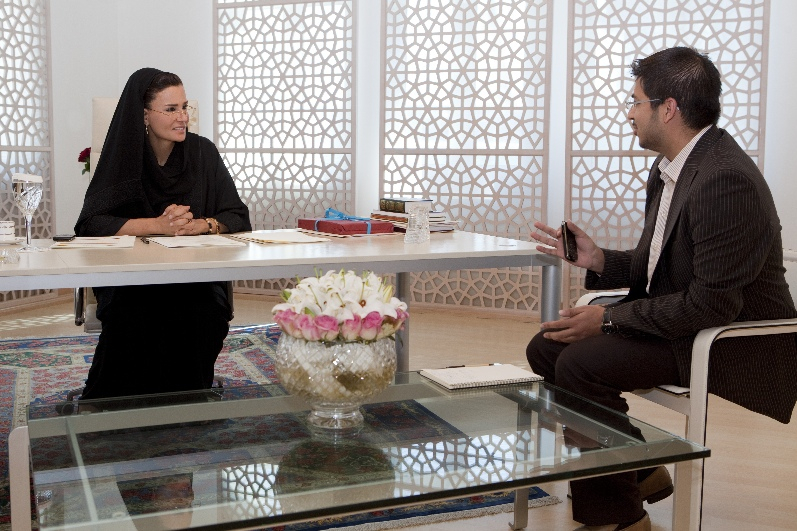 Sheikha Mozah had
made
a related impassioned plea in her closing speech for Qatar's World Cup bid. Perhaps many in Western capitals were hearing her speak for the first time. Usually, it is her sense of fashion that precedes her and
dominates
media coverage. Qatar itself is viewed as an obscurity. Yet, that limited perception, especially in North America and Europe, really is suited only for those who've arrived late to the party. Qatar has the world's third largest natural gas reserves, one of the world's largest corporations (
Qatar Petroleum
), one of the world's largest sovereign wealth funds (
Qatar Investment Authority
), and last but not least, one of the world's largest foundations (
Qatar Foundation
), chaired by Sheikha Mozah herself. This is not even to mention the awe-inspiring
Museum of Islamic Art
that was recently built, or
Al Jazeera
which has transformed news media in the Arab world and beyond.
At the heart of this integrated vision (
QNV 2030
), is the push for true social and cultural transformation, and for Qatar to be an example in this regard for the wider region. That effort is led primarily by Sheikha Mozah, one of the world's most influential women
according
to
Forbes Magazine
. In Qatar this has meant pushing for a more open society, that is thinking, that is tolerant, that is informed. Sheikha Mozah's Qatar Foundation for example, partnered with Tim Sebastian to
found
the Doha Debates, which tackles sensitive topics in the Middle East. This past week's fiery discussion,
saw
renowned Muslim philosopher from Europe, Tariq Ramadan
claim
to the delight of the local audience, "What we need today in Muslim countries is courage to challenge governments and policies."
The key for the Qataris, however, is education. "Education is the solution," Sheikha Mozah related in our conversation. "Education can also be used as a soft power and as a soft force to transform societies. When I say transform societies it means we can tackle issues in political, social, cultural, economic areas. These are the most important things." In this light, Qatar has played host to the
World Innovation Summit on Education
for the past two years, to try and push further collaboration and sharing of lessons, akin to a World Economic Forum-style event. It brings together, for example, education leaders from Ghana, Saudi Arabia and the UK, to share a stage on equal footing to learn from one another. At this year's event, Sheikha Mozah
announced
a new $500,000 International Prize for Education, the first of its kind in the world.
Domestically, Qatar has engaged in a series of reforms and built a number of new institutions of higher learning in a multi-billion dollar location appropriately
named
, 'Education City'. This was a concerted effort to bring "Ivy League" quality universities to Doha, and empower specific "faculties to build up our own societies." You can see satellite campuses of Cornell Medical, Carnegie Mellon, Northwestern, Georgetown and beyond seamlessly fitting into the Qatari landscape. Sheikha Mozah also emphasized that "Qatar is giving 2.8% of our GDP to research. This is something again that is a breakthrough, as nobody was even thinking of research as a tool or component for advancement in this part of the world."
Qatar's focus on education and empowerment is impressive in its own right. It's doubly important in the region where as Sheikha Mozah pointed out, "66% is the literacy rate in the Arab world. We have 58 million illiterate among adults in our part of the world." Moreover, Sheikha Mozah's own example as an impassioned social leader is inspirational to millions of women in the region and also for men. Yet, just as with the World Cup bid there are also a number of questions that need to be raised. Firstly, multi-billion dollar infrastructure cannot replace the 'software' needed for an educated, thinking society. When
global assessments (TIMSS)
were carried out in 2007 for 4th and 8th grade students across the maths and sciences, Qatar ranked at the bottom of the class. Sheikha Mozah insists that she "was the one who held the devotion towards this. The others said there are risks because our experience is very, very immature until now as we are just two years of experience into our reforms, and that will reflect significantly on the results and people will miscalculate the results. I said it's okay -- don't do it for us, at least we'll have it as a benchmark from when we started. The results that you saw are the results that reflect our starting point, not our ending point."
There are also similar questions around the suitability and sustainability of having branch campuses of universities, who are deeply influenced by revenue streams in moving to the Gulf and do not have the same sense of entrenched history that they do in their own countries. After all, world-class universities are as much (if not more) about the culture and identity of the institution, as the bricks and mortar. Qatar across a range of sectors has embarked on an ambitious national development programme, and it remains unclear if the tens of billions of dollars that are being spent and will continue to be spent, will generate the expected results. More importantly, as Lakdar Brahimi, the former UN Special Envoy mentioned during the WISE conference, countries such as Qatar need to do more in assisting the region around them, and improving the conditions in education for example in Afghanistan (Qatar Foundation has
established
Reach Out to Asia to this end).
It remains to be seen how exactly Qatar's vision will play itself out. Despite Sheikha Mozah's enthusiasm, there is of course reason to be skeptical about whether the results will follow good intentions. At the same time, there is tremendous reason to be optimistic. The institutions of the Qatar Foundation around social change are extensive and now well-rooted. Additionally, Sheikha Mozah has been providing strong leadership on changing attitudes locally, regionally, and even globally towards education. Winning the right to host the World Cup in 2022 truly inspired the Middle East, especially the youth. It was, however, only one step in Qatar's grand vision and certainly not the last.